Cool Nights in Jazz
Cool Nights in Jazz
The Club de Jazz Santiago
Opened in 1943, the Club de Jazz Santiago, with its wide range of themes (latin jazz, ragtime, swing, dixieland, bebop, fusion and blues), represents an institution among jazz joints in South America because of the performance of international artists as Louis Armstrong, James Moody, Elvin Jones, Herbie Hancock, Wynton Marsalis, and Paquito D'Rivera.
The Club was founded by José Luis Córdova, René Eyheralde, Mario Raurich, Enrique Rosenblatt, and Jorge Luis Cáceres who rented a place between calle Santo Domingo and calle Bandera. Later in the 1950s, the Club split in followers of the "Jazz moderno" versus the "Jazz tradicional" but maintained the same premises. After the heartquake of 2010, the Club moved from Avenida Irarrázaval to the actual premises in Egaña.
Some Background
From 1915 to 1955, jazz was the predominant form of popular music in the United States, performed by bands of five to seven players in a style known as New Orleans (today named Dixieland). Notwithstanding its lower class origins, jazz quickly evolved in something more sophisticated to detach from the characterization of the genre as entertainment and to overcome the rigidity of dance music. Indeed, the popularity of jazz at the time related to the swing genre, a commercial style that alternates rhythmic monologues and solos against a background arranged composition; however, such popularity brought with it great soloist as Armstrong, Hawkins, Bechet, Young, Tatum, Waller, and Krupa. Moreover, after the World War II, the formularized sound of swing pushed artists to experiment with velocity and complexity developing bebop, cool jazz, progressive jazz, and the modern unstructured jazz. Artists as Parker, Rollins, Getz, Coltrane Gillespie, Davis, Monk, Silver, Peterson, Roach, Blakey, Jones, and Johnson innovated with virtuosi and modernistic chords and with structures of blues, tango, african, and indian music without leaving the typical 32-bar format.
Seis a la Dixie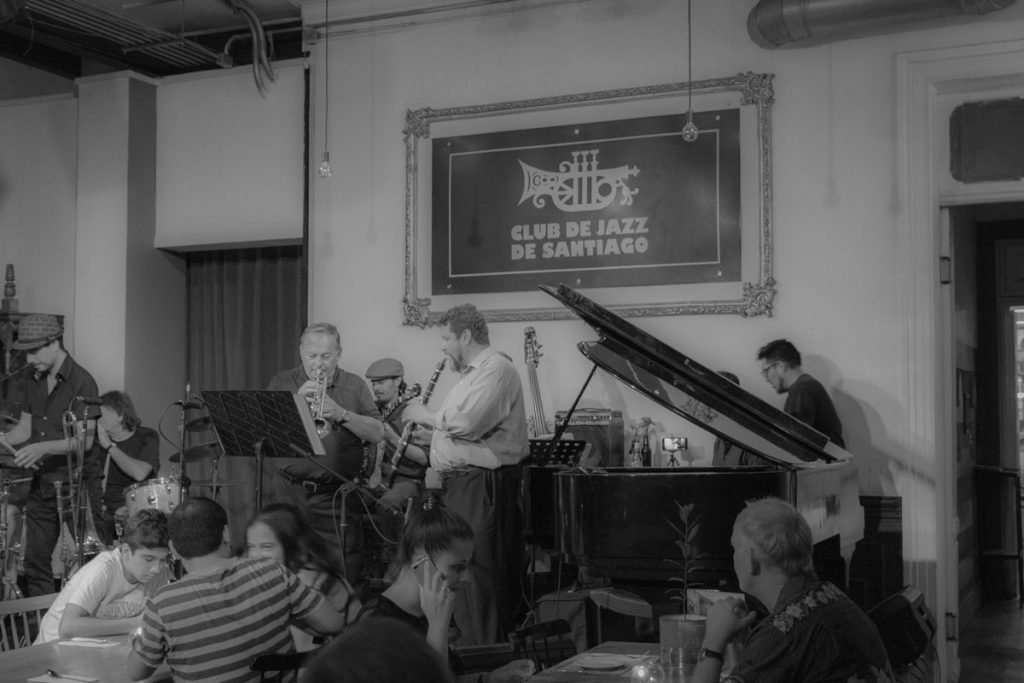 The band, founded in the 1990s, originally comprised Claudio Zamorano, Héctor "Parquímetro" Briceño, Renato Muñoz, César Izzo, Fernando Vertugo, Fernando Otárola, Walter Soto, and Robert Chaytor but from time to time alternated other artists. Their performance is based on the traditional Dixieland style, including themes ranging from spirituals, work, and blues to modern ballads. After the IV Festival Internacional de Jazz de Quito (Ecuador) the band published its third CD.
Influences and Tensions of Jazz
The predominant development of the genre by black americans determined tensions against the white artists, reclaiming their contribution to the genre, and against the white environment (critics, music companies, etc.) surrounding the jazz music. As a cultural movement, it attracted the hate of the bourgeoisie because of its association with interracial sex and drugs; notwithstanding, it influenced visual artists as Bearden and Pollock but also writers as Ellison who, in 1952, firstly published a jazz novel (Invisible Man). Furthermore, during the 1960s, the jazz music encountered the ideals of black nationalism and marxism against racism and the white cultural domination.
References.
Freedom's Story. Jazz and the African American Literary Tradition Retrieved from http://nationalhumanitiescenter.org/tserve/freedom/1917beyond/essays/jazz.htm
Wikipedia
Club de Jazz Santiago. Retrieved from http://clubdejazz.cl