Concha y Toro: between wine and history
Concha y Toro: between wine and history
Melchor de Concha y Toro, Minister of Finance during the Pérez government, is the founder of Concha y Toro wineries. His mansion in Chile can be still seen during the wine tours to his modern winery. Indeed, built in 1875 it is immersed in the beautiful park surrounding the precious grapes.
The Marquis de Concha y Toro selected the Bordeaux region of France for the seeds of the grapes he imported into Chile (Cabernet Sauvignon, Sauvignon blanc, Semillon, Merlot, and Carmenère).
In the mid-nineteenth century, a small insect named phylloxera wiped out most of the Carmenere vines in Europe. However, such dark, red grape variety survived in Chile, employed in the production of some of its best wines, but today is also cultivated in the Friuli region of Italy, as well as in Washington and California.
In 1883, when Don Melchor discovered that his wine was being stolen from his home, he circulated a rumor that his wine cellar (casillero) was plagued by the devil to discourage robbers. Today, you can still visit the devil's cellar by attending one of the many tours and degustations available.
However, beyond legends and traditions, Viña Concha y Toro established a new Center for Research and Innovation (CRI) in response to the new challenges faced by the wine industry. The Center focuses on applied research with the goal of facilitating the exchange of knowledge.
My souvenir from Concha y Toro…
Well, despite the fact you can buy in every corner of Santiago, I'd like to go to winery and come back with a bottle. It just taste different. Moreover, at the end of the trip a good bottle is the best reward for the intense walk under the sun and the strange humor of the guides. The wine I bought for 5-6 dollars was a fair example of Carménère with its typical minerality and aromas of fruity red berry, green peppercorn, and bitter end taste like cocoa or kale.
Want to know more about where the flavors come from, how to smell them, and what flavors to expect? Just check Wine Folly's blog post about Wine Flavors.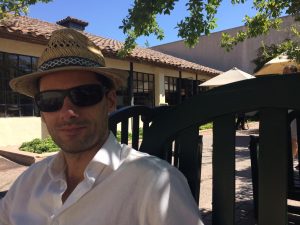 References
Wikipedia
Concha y Toro Wineries. www.conchaytoro.com